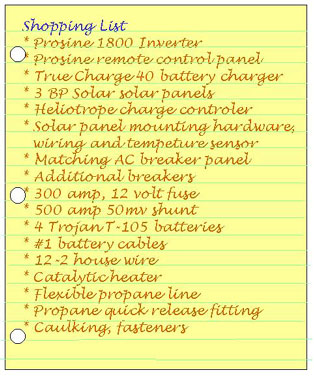 We increased our battery capacity, added solar panels and a DC to AC inverter, installed a more efficient battery charger and replaced the power inefficient furnace.

It took several months to work out all of the details and I learned as I went. A lot of time was spent thinking about where to install the equipment in order to minimize 12 volt cable length, maintain weight distribution, and conserve storage space. I also spent the extra time to track down a matching breaker panel and route all the wiring under the floor with the other factory wiring.

I added a second AC circuit panel for all of the inverter circuits. I can run shore power and invert power separately or pass shore power through the inverter.
With shore power on and the inverter in monitor mode, the inverter acts as a backup power system for the computers. It also supplies clean power to the computers if the park's power is low or fluctuates.

The batteries can either be charged by the solar panels or by the battery charger using either shore power or the generator as the power source. By splitting the circuit panels, the inverter can supply clean power while the charger maintains the battery voltage level.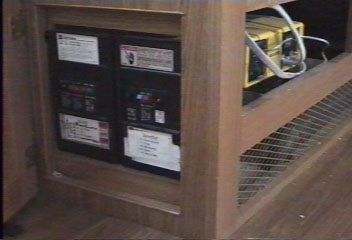 The solar panels have been installed for six months now and have adequately maintained our batteries. Most of the time we have had shore power for the AC appliances but the 12 volt lights and appliances run only on the batteries and solar. We spent two weeks without shore power, i.e. only the solar system, and with a little only a little conserving, had plenty of power for lights and TV.

I have digital display of the solar charge amperage, and usage amperage for the inverter and direct 12 volt lights and appliances. We have yet to install more efficient lighting, but it may not be necessary.