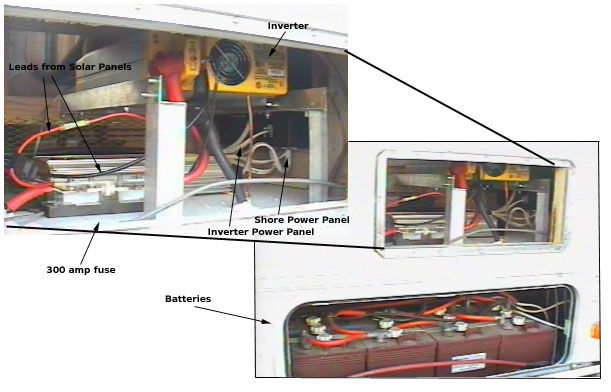 Replacing the furnace in the space under the oven with a catalytic propane heater made room for the inverter. Best of all, it is less than a foot to the batteries and the two AC breaker panels. A rack was constructed using angled aluminum and pop rivets to make room for the battery charger and 300 amp fuse under the inverter (see insert picture.) Holes were drilled though the floor providing a very short path for the #1 battery cables. All of the holes where filled to prevent battery gases from entering the RV.
Access to the wire channel under the floor was located by removing the lower shelf under the sink and a panel under the refrigerator. The 3/12 Romax house wire was pushed through the under floor by using mirrors and small flashlights. Romax is tough and can be bent to go around difficult corners. Then the lighter flexible wires from the display and control panels were taped to the Romax and pulled through the under floor.
Most of the shops I talked to wanted to wire-tie most of the wire under the RV and even to the propane lines -- NOT a good idea.

The factory had installed a large #2 cable to the generator on the propane line. One day we dodged debris on the highway but still caught a small piece of metal. It flew up and cut through both the 12 volt cable and the propane line. Later, we turned on the propane and noticed the smell. The severed, live 12 volt cable was only a quarter inch from the metal propane line.

It was worth the time to properly route the cables under the floor with all of the other wires. Unfortunately, if you pay a shop to do this work it takes a lot longer and will cost a lot.

Another discovery was that I had too many cables to fit onto the battery's terminals. Luckily, I had batteries with a quarter inch stud in the center of a typical battery terminal. I was able to add an additional connecting stud to the positive and negative terminals as shown in this picture.