Key facts about batteries.
1. Minimize the length of the battery cables by keeping the batteries as close as possible to the equipment.
2. Install enough battery so that you only need to use 1/2 of the total capacity.
3. Physically secure batteries from bouncing around and make sure there is proper ventilation. Although not common, severe battery accidents do happen.

---
To learn more about batteries see
Trojan's web page at
Several other resources can be found using search sites such as AltaVista
I bought four Trojan T-105 batteries. They are true deep cycle batteries that are often referred to as "golf cart batteries". These provide 450 amp-hours of power so that I can easily use 225 amps a day without over working the plates.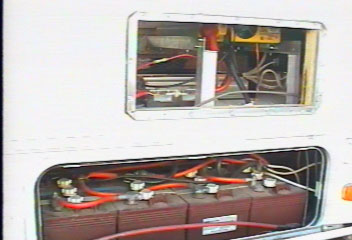 Deciding where to place additional batteries was difficult. Some shops said, "pick a spot -- any spot", while other said, "put them together and as close as possible to the inverter." I was eventually convinced to keep the batteries together and near the inverter. Several shops suggested putting all of the batteries in the storage compartment. This would have poor ventilation and use valuable space. One shop even suggested putting all four on the roof. After a few weeks of measuring and deliberation, I decided to have a new rack welded in place of the original. This way I could turn the batteries and fit four into the compartment that originally had only two.

I also had the rack installed three inches lower so I could access the caps to easily maintain the water level. The four 6 volt batteries are connected as shown in the diagram to create a 12 volt system. If you'd like the design of the rack send me an e-mail.
If the RV shop says, "We can do the job with a little cutting" ... or, "it won't take long" ... or, "they have parts that almost match" ... or, "it will only use half of your storage bay" ... or, "they can wire-tie battery cables to the propane line"...
Say "NO" or
think it though first and ask questions before they start.