SUMMER 1999
---
For all of you that have been following along, we finally have some new pictures and stories. I have also learned that our pictures don't look very good using Microsoft's Explorer or AOL. They look better using Netscape. I'll try to find out what needs done to make good pictures for all of the programs.
After leaving Yosemite we headed North We planned on joining a family reunion in San Diego in early August so that provided us with seven weeks to visit with friends and family in Washington and take care of business in our home town.


We parked our trailer at Gabe's house, (Ed's oldest son), a couple of times. Gabe is behind the Jacuzzi as he and his friends work on building a deck. There's no such thing as a free parking spot, work ... work ... work.

It turned out to be the busiest seven weeks of our travels. Dentist appointments, taxes, hair cuts, business meetings, and rental unit problems are a few of the chores that filled up many days.
| | |
| --- | --- |
| We had the opportunity to get all four of our older kids, their spouses, and the granddads together for Bridget's 21st birthday, (Cheryl's daughter). That's a nice napkin-hat Bridget. You must still be feeling the effects of the party your friends had for you the night before. That's her daughter, Kayce, sitting next to her. | |
Here's the whole gang together for the first time in many years. However, two of the granddads were visiting their other grandparents and one granddaughter, Kimlyn, had not hatched at the time of this picture.

We also had a list of friends and family we wanted to visit, but we were unable to find the time to see them all. We are hoping to do more visiting when we get back up in September and December.
| | |
| --- | --- |
| | Here's an interesting story. It's about Cheryl's sister Mick, (Michelle). She has always been the outdoors type, (like hiking for several days in the middle of winter with just her dogs in the High Sierras near Lake Tahoe). One day she decided that Tahoe was getting too crowded and she was moved to Valdez, Alaska, homestead style. |
But Valdez turned out to be too crowded too, so here's a picture of her new property. She has about 350 acres. To get there you go to Fairbanks, drive a couple hundred miles further north, then park at the end of the road. Then you go by boat up river for 30 miles and then hike or use ATVs the last 20 miles. It sounds like it's easier in the winter when snow mobiles and sleds can be used.

So, some of you out there thought Cheryl and I are roughing it.

We had a chance to visit with Mick this summer as she was passing through town. She bought a mid-sized truck, like a large U-haul style, and picked up some horse-drawn farm equipment. She is going to grow a lot of her food and hay for her horses in the meadow near her lake.
| | |
| --- | --- |
| Here's a picture of her plow. She has disassembled the equipment and plans on bringing it all in on sled after the snow falls this winter. I wonder how many huskies it will take this spring to pull one of these plows through the permafrost. | |
Here is Mick, Mitch and Max and her truck.

I wish I had the picture of the grizzly bear skin she obtained one morning from within her tent. As I understand the story, her boyfriend got off one shot as he flew from his sleeping bag. With the grizzly chasing him, Mick joined the chase and was able to get the bear with her rifle.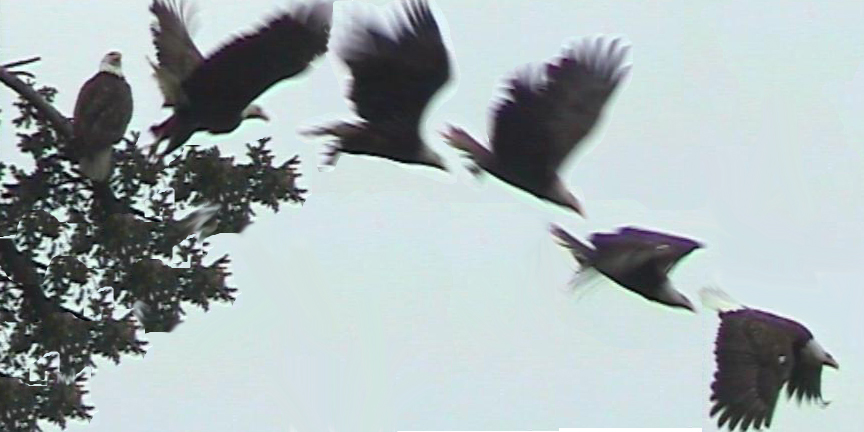 We also parked our trailer at the Carlson's house for a week and I got this great shot of an eagle in their back yard. With a little editing and frame overlays you can watch him fly off.




We visited with friends and neighbors during the annual 4th of July Lake Goodwin Boat Parade and Picnic. It looks like everyone wants to get into the action, even they don't own a boat.

We also stopped by and visited neighbors next to our old lake house. We stayed at the State Park on Lake Goodwin. Here a group of scouts fixed up the handicap RV spot next to where we were staying. Considering this was their first concrete pour and a monster rain and thunder storm dumped on them, they did a great job.

Below is a picture of our old place on the lake
| | |
| --- | --- |
| | The new owners started to remodel the house but the project kept growing on them. Eventually they remodeled everything from the foundation up, except the garage . |
It's now a three story house with a fourth floor castle style turret. The house has everything from full solar/battery operation, water purification/treatment, and many other electrical features and systems. I think they are ready for Y2K or something.
A friend of Gabe's puts on professional 4th of July fireworks shows. Gabe helps with the setup, we go down and watch the show and help with the cleanup. Here Gabe is helping to test all of the electric ignition wiring connections.


We always get a pretty close seat. It is really quite an experience to sit where the noise is so load and the fireworks are so bright that it is almost overwhelming. There are also a few burning embers that sprinkle down so this adds to the experience as well.
| | |
| --- | --- |
| On the right, Darren is testing the control panel to check all of the connections for the City of Lynnwood's 4th of July show. | |

After the show any hot spots are cooled down, mortars that didn't ignite are gathered up and then the clean up begins. The cardboard boxes on the left are like the 50 shot fireworks sold on Indian Reservations only much larger. On the right you can see the black tubes that each contained a mortar. This is about one-forth of the total.

Click here for an interesting picture taken during the show and made into a mirror image

Well, it's time to head back to San Diego; and with weather like this it's a good time to go. To the right, we're back in Southern California with a seaweed fort protecting Mitch and Max's lake from the ocean waves.
| | |
| --- | --- |
| Max found this fellow sitting on the gas pump house at Corning, California. We stopped to refill the tanks and replenish our supply of specialty olives at the famous "Olive Pit". It's one of those places that has billboards every other mile for twenty miles along the freeway. Well, one day we stopped and now it's a regular stop whenever we travel on I-5. Check them out | |
| | |
| --- | --- |
| Cheryl's dad lives in San Diego, her sister's family from Merida Mexico was coming to town. Her other sister's family was flying down from Seattle to join the party. We usually rent a condo on the ocean but this year we stayed at Campland on Mission Bay. It's was just a short bike ride to the beach on a bike path along Mission Bay. Here's a shot of Mitch riding a wave. | |
Now here's a picture for the album. The four cousins eating watermelon.

Next we are going to slowly head north up the eastern side of California.
ã copyright Nodland 1999-2020