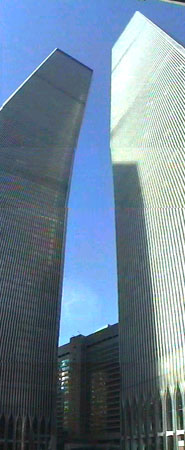 So we arrived in Jersey at 7:00 PM the night before, caught an 8:00 AM ferry and now we find ourselves in downtown New York City with no map, no subway info, no tourist info and, (since it's off-season), no open tourist info booths nearby. We started walking and ended up here at the World Trade Center.

The World Trade Center buildings are so tall they're affected by the curvature of the earth. Either that, or I did a poor job of pasting several frames of this picture together.

There must have been a subway nearby because hundreds of people were flooding through the main corridors and walkways like a giant army of ants. We couldn't believe how many people there were. It looked as if there was an evacuation of New York in progress -- only in this case they were all headed off to their offices. It was one of those memorable moments -- here the four of us were, heading along in the opposite direction of this massive flood of business suits and briefcases.

At the end of the 50' wide corridor were 10 revolving doors. These doors were spinning at full speed with people coming through the opposite direction not missing a step. It's an awesome site at first but not really all that difficult to negotiate if you're like Luke, on Star Wars, and use "The Force".

Over all, it looked like a giant had just kicked a big ant's nest.