Arriving in England
November 11, 2000
---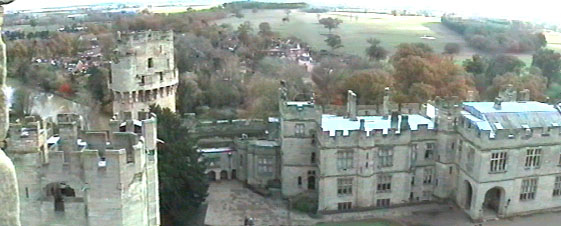 Toto, we're not in Kansas anymore!
---
We prepared our trailer for freezing weather, emptied the refrigerator and parked it at a secure RV park in New Jersey. We had found a very nice kennel in the area, so sadly dropped Cocoa off. Then we were off to Newark International to catch an 8:30 PM flight to London's Heathrow on one of British Airline's new Boeing 777's. The flight was very enjoyable and the service was great, (even in the cheap seats). The boys were impressed with all of the kid's travel activities provided by British Airlines and Max couldn't wait to operate the in-seat entertainment system. Cheryl and Max stayed up all night watching movies, while Mitch and I slept.

I knew that all too soon I would be driving on the left-hand side of the road and didn't want to be sleepy when we hit London. Max had said that his favorite part of flying is watching the plane approach the ground and land. Unfortunately, after staying awake for the six+ hour flight, he fell asleep as we circled Heathrow and landed. We landed at 9:00 AM London time, which is 4:00 AM New York time.

Wow, we're in England!! And better yet -- this is where we're staying for a week!! Walton Hall, a manor house built in the 1700's on 65 acres.
| | |
| --- | --- |
| | A little over an hour's drive and we're at Walton Hall in Wellesbourne. It's near Stratford-upon-Avon, which is the birthplace of William Shakespeare. It's also just 2 miles from Loxley, (as in Robin of Loxley), and 70 miles from Nottingham and Sherwood Forest. |
| | |
| --- | --- |
| | Our 2 bedroom, 2 bath apartment is great. Beautifully furnished and just down the walk to the main house. 200 years ago these were the stables -- they must have had a lot of horses. |
| | |
| --- | --- |
| So what's it like to drive on the left-hand side of the road, you ask? At first it's a constant battle between subconscious habits and logical thinking. Draw a "figure 8" on a piece of paper and try tracing over it three times while looking only in a mirror. It's a similar experience except you can't mess up. The easiest for an American-just-arrived-in-England is just to follow another car. That works great until the car in front turns off in another direction in the middle of a busy "roundabout". | Our Vauxhall Wagon |
Roundabouts are very common here -- it's a circular intersection that you drive into with streets stemming off of it in three, four, five, sometimes six different directions. My lead car would disappear and suddenly I would find myself on my own again with unfamiliar traffic signs and signals. The most difficult is turning to the right at an intersection. I'd be starting from what seemmed like the wrong side having to enter onto the wrong side and would initially look the wrong way as I eased into the lane of on coming traffic. The most dangerous is failing to look to the right first. This is true both in the car and even more so as a pedestrian. Even turning around at the end of a cul-de-sac or road side attraction must be done in the opposite direction to avoid collision.

Note from Cheryl: Though we've driven on the left side before, (in Antigua where it's mostly country roads and nobody really pays attention to driving rules), England is very structured and fast. Our first hour of driving was a combination of a video game (because you're in control) and a thrill ride. I keep subconsciously scooting my left leg in to avoid parked cars, which can fill half of our driving lane on most side streets.

There was no manual in the car and we have yet to figure out how to turn on the dome light, and fully work the radio. To read the map after dark we stop and open a door so the light will come on. Last night, in London, while stopped at a red light Cheryl opened her door to see the map and nearly took out a guy on a bicycle.
---
Birmingham, England
| | |
| --- | --- |
| | Our first outing was to Birmingham about twenty miles northwest. It's a medium sized city with many cultural attractions -- museums, galleries, theaters and a National Indoor Arena. Two canals meet here and wind though the area. |
| | |
| --- | --- |
| Though Venice is tempting -- only a long day's drive from Southern France, we just won't have enough time. Birmingham will have to due for our canal experience this year. Birmingham's canals journey for more than fifty miles in both directions and pass through many locks. The canals, (and hence the boats), are only about six feet wide. The boats are long and skinny, some thirty feet or more in length. With modern roads and highways many are now floating homes or restaurants. | |
| | |
| --- | --- |
| | This picture provides a feel of the downtown area. Here, shops and eateries line the canal and streets. Most of the buildings are either brick or rock and would be considered very old by western USA standards. |
Though we thought traveling to England would be a lot like going to anther state, (only with a different accent), there are traits in language and products that are uniquely British. Some of our most enjoyable experiences are in the grocery store or listening to a radio newscast.

Budwiser appears to be the #1 import beer and possible #1 over all. A hardware store is an "iron monger", butchers hang meat in their storefront windows, the soda pop aisle in big grocery stores are labeled with signs that say "fizzy drinks", ground beef is called "mince beef" and the cooking instructions state that is should be cooked until the center is "piping hot". The traffic radio announcer stated that "a lorrie had shed its load and traffic is stationary" (a lorrie is a trailer, but is also what they smei-trucks), and shopping carts are called trolleys. One of the best was when we purchased tickets to go on a sight-seeing bus and the fellow we bought them from pointed across the street to "the toilets -- in case you want to have a sprinkle before the trip". Too funny.

We've seen very few Mexican restaurants, some pizza places, but pubs and eateries with names like the "Rat & Parrot", "Earl of York", "Shakespeare's Inn and Pub", "The King's Inn" or "White Castle" are plentiful. So far, the boys and I have had pizza, English fish and chips, sausage and potatoes and curry. Cheryl has been more adventurous in ordering more traditional English meals. We've yet to select shank of lamb with mushy peas.
Mitch had a gammon and salad torpedo for lunch, (ham and lettuce sub), and the strangest, (but most popular pizza here), is with tuna, onions and corn. Music, television, and theater are a mix of Britain and Hollywood, but mostly weird. There are lots of game shows -- some identical to ones in the U.S., only with different hosts -- (you ought to see the British Bob Barker).

Here, for example, we came across an audition for a Budwiser commercial.
More on Driving

By day six I can drive on the left with only the occasional slip to the right. Driving is still a challenge in the cities. This is a map of downtown Birmingham -- (driving in Boston was just a small taste). This may look like a map of freeways in Los Angeles, but it's really just smaller city streets. The area shown is a square of 10 by 15 blocks in size.
Some streets are one-way, some pass over or under each other and some have restricted turns. All the streets wind and turn and most are joined by either a round-about or a large circus, (circle), as seen near the center. We could turn left off of one road to go north, and a few blocks later merge back onto the same road going south, without really knowing it. Many streets change names every second or third block. So while I'm busy concentrating on driving on the left, Mitch looks for street signs, (which are mostly on the buildings near the corners), and Cheryl reads the map. But come out of a round-about on a different road, a few turns in the road, and a couple of sudden "lane must turn" signs in heavy traffic and again it would be time to pull over and open a door to study the map. Asking a local where we are on the map usually results in, "Ah, well, um" then, turning away from the map, they start telling us how to get to where we want to go with much uncertainty in both their voice and description. When both the moon and sun are down, its impossible to keep track of our direction.

In London, a policeman could not tell us where we were on our map and gave us instructions to drive further on and to stop often and ask for directions. He also didn't know which way was east or north, etc. We went the opposite direction he told us and came out where we wanted to be.

It's like driving in a large computer game; lots of fun, like a logic puzzle unless it's late or we're in a hurry.



ã copyright Nodland 1999-2020