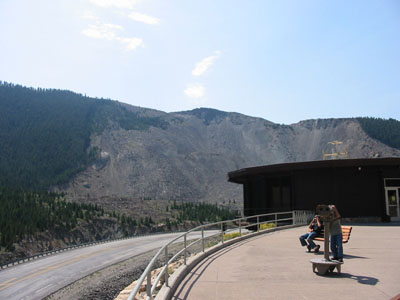 As we headed northwest, we came across a site that looked very strange. There were the trunks of hundreds of dead trees sticking out of the middle of a fairly wide lake. Then we saw the side of a mountain that appeared to be completely cleared of all it's trees and vegetation. We couldn't figure this out, so when we saw a visitor information center we had to stop and check this out.

On August 17, 1959, at 11:37 p.m. an earthquake caused the mountain to shake. A massive part of the mountain broke, slid off and filled the valley below. Several people who were camping in the area were buried. 100 mile per hour winds were created from the falling earth. Massive boulders (broken bits of mountain) were stacked high on the other side of the valley. Over 40 years later, this is what's left.

This site is called Earthquake Lake. It's located on Montana Highway 287, about 30 miles north of the town of West Yellowstone.