About Our Truck and Trailer
---

Our trailer is a 32 foot King of the Road with three slideouts. When we get a chance we'll take some photos of the inside, so that you can tour the trailer. We were surprised how much stuff we could actually load up and take with us. We may even have some stuff that we may not use. It is amazing how much stuff we collect in our culture.

We have all the conveniences of home; a complete kitchen, living room, bathroom with tub and shower and bedroom with a queen size bed. There is a built-in stereo with three way speaker system for the living room, bedroom and outside sound. We took out one of the large living room chairs to make room for the kid's computer. Cheryl's computer is on the built in desk that is in the third slide out and Ed usually works on the dining table on the laptop. Yes, you counted correctly, three pentium PCs and, on top of that, a network connecting them together so we can share resources and maintain configuration control of all of our files. You can take the techno-geek's out of the city but. . . . .

Max is learning to be our network admin. I think he's been cruising the web checking out salary ranges already. We also have a dual head satellite dish and two receivers so we can watch news, a movie, or what used to be Cheryl's favorite, the Travel Channel, while the kid's watch the toon channels.

We have added solar panels, additional batteries and a better battery charger. Click here for more on our power system

We really like our older wood-framed King of the Road and would be happy to provide information on the plus and minuses to anyone considering purchasing one. Just send us an e-mail.

---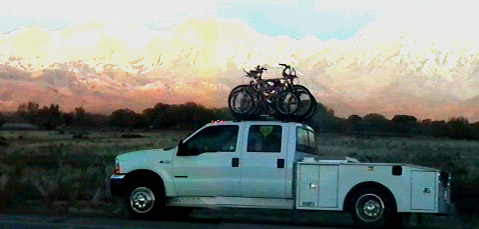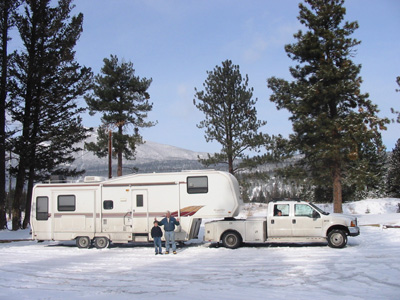 ---

Our truck is a 2000 model Ford F-550. Our older truck was just a little under sized for the job and we thought we best get a new truck now rather than wait and pay repare bills. The F-500 and F-450 Ford trucks come as Cab-Chassis vehicles from Ford. It's up to the buyer to acquire a body / bed for the truck. The difference in these two models from the 350 and 250 superduty pickups is in the rear end, suspension, brakes, and wieght ratings. The F-550 has the same 7.3 Powerstroke desiel engine as the smaller pickup models. I've always had Ford trucks, but I hear the new Chevy pickup is a real good workhorse.

For the tow body we decided on the custom RV body made by Highways Products in Medford Oregon. It provides more storage than any other body we have seen. In addition it adds 60 gallons of fuel for a total of 100 gallons. Now we can drive 800 - 1000 miles between stops. We are very pleased with quality and supported provided by Highway Products. They have fixed or paid for repairs for any problems we've had without question.
---

Our first truck was a 1987 Ford F-350 4X4 Crew Cab. We used it from June 1998 until November 1999. It was a one ton truck and it had four wheel drive. The 460 gas engine does not have as much pulling power as a diesel, but it does O.K. We considered buying a new Ford F-450 or F-550. They are very, very hefty but after installing a box, hitches, storage, and all, it would run in the mid 40's. So we put a new engine in our truck at Bickford Ford in Snohomish Wa. and once we put on one thousand break-in miles, we left for sunny whether. Ed had a removable rack put on the front that can double as a tailgate on the back. So now we have extra storage space up front. We also custom raised the back seat three and one half inches. This provides the kids with a better view and provides six inches of underseat storage. Other than that, it's a basic truck. It was originally a crew truck. Most likely someone bought it at auction, did a nice cosmetic job on it, put on some nice wheels and tires, then made a few bucks selling it to us. So far it's been a good truck. It's rugged with hard plastic door liners and dash so we don't have to worry about the kids and dog warring it out. Ed often tells people that in a nuclear blast out truck will still run since there are no chips or high-tech wiring. Everything is manual and that's O.K. because now we have the time to adjust a seat, roll down a window, or lock a door the old fashion way. Although Ed is trying to readjust to not having a "headlight on" warning buzzer. It's a good thing we have a Costco portable backup battery.

---
ã copyright Nodland 1999-2020