Yellowstone National Park
May 18, 2000
---
| | |
| --- | --- |
| | On our way to Yellowstone we stopped for a day in Jackson Hole, Wyoming. Its a small resort town with the highest RV campground prices we've seen so far. It's just 5 miles south of the Grand Teton National Park and has a great visitor's center, complete with an elk stampede and many other stuffed animals on display. |
Nancy, from Atlasta Solar in Grand Junction, Colorado, suggested that we stop by her friend's knife shop in Jackson Hole, so we did. We ended up buying a quality kitchen chopping knife, (our anniversary present to each other). How do you like these park entrance arches? There are four of them -- one on each corner of the park made entirely of elk's antlers. (No, the elk don't die to give up their antlers, they shed them once a year). The local boy scouts go out and collect the antlers and then every May auction them off to raise money.
We saw several moose going through Grand Teton National Park. They weren't difficult to spot since they would sprint across the road in front of us. All we had to do was slow down.

You can see that there was still some snow on the ground at 8,000 feet. The higher elevations were covered with three to four feet.


At the turn off to Lake Village near Fishing Bridge Campground in Yellowstone, we saw our first bear. It was a large black bear.

We settled in and the boys went out to play in the snow. They took out some saws and cut blocks of snow from the piles left behind by the snowplows. The days were warming up and the block walls melted quickly in the light breeze.


What's a trip to Yellowstone without a visit to Old Faithful! After the eruption, Mitch measured the temperature of the water about 200 yards, (10 minutes,) down stream. The water was still 97 degrees F.

We went on a tour of the Old Faithful Inn. It's over 100 years old and is the largest log structure in the world. An earthquake damaged the chimney in 1959 but the building was not hurt. Cheryl and Max are standing in front of the fireplace, bottom right corner. This building is really something to see. The hotel rooms in this original building still all share a bathroom "down the hall". Can you imagine what it would have been like to travel by train from the east coast, then by horse and wagon for two days to finally arrive at this magnificent inn, high in the Rockies? We celebrated our 15th anniversary by having dinner in the hotel's beautiful restaurant.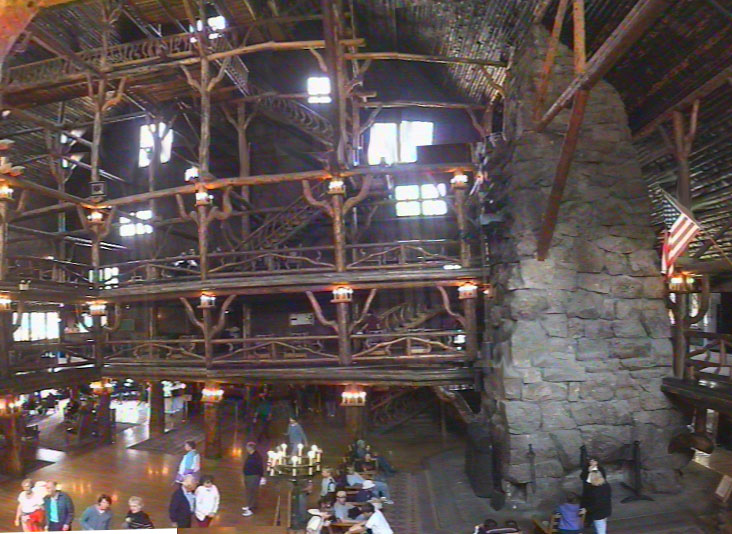 After the tour Max let off a little steam but Mitch really blew his top
This is a bubbling geyser. The water is real clear, hot, but not steaming. The bubbles are due to gases floating up to the surface. The basin near Old Faithful is filled with geysers and we saw several of them erupt.
| | |
| --- | --- |
| Here's a picture of Steamboat Geyser. It's the largest geyser but very unpredictable. It may erupt in three hours or fifteen years The last eruption was just two weeks before we arrived, but it had been several years since the previous one. We waited for ten minutes, but all it did was bubble. This is a photo from an eruption in the 1950's. The sign said that these eruptions can shoot large rocks and hot water into the parking lot over one hundred yards away. | |
| | |
| --- | --- |
| | Here are three of the four members of the Palmer family, (along with a Ranger). We met them on a Ranger guided tour of the Yellowstone basin. They are taking one year to travel to all of the United States and have a goal of visiting all fifty of the state capitol. They only had a few more midwestern states to visit and have probably wrapped up their trip by now. |
| | |
| --- | --- |
| Some of the pools are filled with a rainbow of brilliant color. | Mitch and Max with one of the many friendly Rangers we met in Yellowstone. |
Click here for Yellowstone Continued

ã copyright Nodland 1999-2020