Road Trip with NHK
(Japan Broadcasting Corporation - Nippon Hoso Kyokai)
April, 2001

---


Mitch and Max fishing at Lake Cachuma near Santa Barbara
Last November we were contacted by Kenshi Fukuhara from NHK, (Nippon Hoso Kyokai or Japan Broadcast Corporation). He was working on a documentary of the full-time RV lifestyle in America. NHK is the Japanese equivalent of PBS in the U.S.
| | |
| --- | --- |
| | But before we go too far, let's have a few introductions. From left to right is the Boss and Producer Hidenori (Hidi), Cameraman Kojiro (Koji), Ed, Sound man Katsuyuki (Kats), Max (on his shoulders), Interviewer Kenshi (Ken), Mitch and Cheryl. |
This documentary was Hidi's idea. He was inspired by an article he read entitled "The Cyber Cowboy." In Japan people go camping on weekends and vacation but they don't have the big rigs and wide open spaces that we have in the U.S. Hidi wanted to show the Japanese viewers how it's possible to travel, work via the Internet and break away from the stress and routine of "normal life". They interviewed about fifty RVer's via e-mail and three families were selected for the documentary. One family is a young couple with three small kids that are planning to go RVing. Their house is in escrow, they are living in their RV at a campground near their house, they've stored or sold their belongings and will be starting their adventure the third week of May from the Seattle area. Another family is a retired couple that have been full-time RVing for eight years. Included in the documentary will be time we spent with about 2000 other part time and full time RVers at the Escapee's RV Club rally in Chico, California. They will also show and provide information about the Escapee CARE Center, a center in Texas for elderly Escapee RVer's who are ready to hang up their keys.
| | |
| --- | --- |
| | Kenshi and Hidi had flown to Texas to discuss the project with us last March, (and probably to check us out, as we'd only communicated via E-mail.) On April 10th we met them at Lake Cachuma in the mountains twenty miles from Santa Barbara for the start of our three week long road trip We camped along the lake as seen in the picture at the top. Here's a picture of the crew across the lake filming the boys fishing. Max tangled his fishing line, but kept casting and reeling since he thought it would look good in the documentary. |
| | |
| --- | --- |
| Next we went to Rancho Oso, a Thousand Trails RV park and horse ranch about 10 miles away. We had stayed here before and Max really wanted to come back to go horseback riding. | |
| | |
| --- | --- |
| | During the first few days they filmed almost everything we did -- setting up and packing up the trailer, stopping for gas, shopping, cooking, eating, etc. (We told the boys that this must be what it's like to be rock stars -- well, for a couple of weeks anyway -- everybody looked and wondered who we were.) At first it was difficult to keep from laughing. We're not used to having a camera at table level and boom microphone overhead as we eat. The horse I was riding this day also did not like the boom microphone. It looked like a large owl or flying rabbit and the horse was real jumpy about having flying rabbits on the trail. |
This is a picture of a waterfall on the Rancho Oso property.

We were often asked how we were selected as the main RV family for their documentary. Several reasons ... we are a family traveling with kids, we continued Cheryl's data processing business and work as we travel using the Internet, we use the Internet and computers for research and to stay in touch with friends and family, and we travel regularly. We've met other full time families during our travels, but most stay put in one location for three to twelve months and work locally.
| | |
| --- | --- |
| | The documentary will be an hour long and will be part of a regular weekly show in Japan that presents different lifestyles and life issues from around the world. |
| | |
| --- | --- |
| This became a familiar sight. The boys really enjoyed a quick game of baseball with the film crew every chance they had. | |
Japan is about the size of California and Oregon with lots of shoreline and lots of mountains. They really wanted to see and film some of the desert regions of America -- something that is not found in Japan. We headed east from Santa Barbara to Las Vegas and then on to Death Valley.
| | |
| --- | --- |
| | Here we stopped at the Calico Ghost Town near Barstow, California. Mitch, Max and Cocoa quickly took off up the hill. They love to climb. The film crew went up for a view as well. |
| | |
| --- | --- |
| | They had rented a Cruise America RV which they drove along side of us -- then drove in front and behind us -- filming all of the time as we drove. We explained that much of the boy's "book education" is done while we drive. Koji came along for awhile and Cocoa rode in their RV. Here Koji is showing Max and Mitch some of the features of his HDTV camera. |
| | |
| --- | --- |
| Here, Mitch is operating the camera. It weighs about 40 pounds. | |
A few family photos
| | |
| --- | --- |
| The large roller coaster at the California-Nevada state line on I-15 | Max's Easter Eggs -- (they don't have anything like Easter Egg Hunts in Japan) |

Another baseball game at the Castaway Casino RV Park in
Las Vegas - (It used to be the Showboat Casino)


Pahrump, Nevada, the home of Art Bell and nearest town to Area-51
| | |
| --- | --- |
| | On a few occasions I would pull over and wait while they drove ahead and set up the camera to get a shot of us driving past. They usually picked a spot where we would come or leave from around a corner or over a hill. Here they are in the mirror catching up with us after a drive-by shooting. It will sure be interesting to see the final show but will be difficult to understand as it will be in Japanese. Hidi told us that our voices will probably be kept in English with Japanese subtitles. |
After we set up in Death Valley, I climbed the trail to the top of the nearby hill. With the zoom lens I could see another baseball game was underway. They liked this ball field. A natural bowl in the hill side would return all the fly balls back to the infield and the two garbage dumpsters made a great backstop.
| | |
| --- | --- |
| | The next day we explored Death Valley. Most unusual were the salt flats known as The Devil's Golf Course. The valley floor is filled with salt. During a hard rain the desert floor can fill with water and dissolve the salt. As it dries, the salt crystallizes into hard, large formations one to two feet high. It's like walking on big rocks covered with gigantic barnacles. The salt structures are very jagged and razor sharp. There are signs warning that if you fall down you can be badly cut. |
This location is nearly 200 feet below sea level. The lowest point in the Western Hemisphere is just 1/2 a mile away in this salt flat.
| | |
| --- | --- |
| Filming as we explore a dry wash | A family photo |
| | |
| --- | --- |
| It's amazing flowers can grow here | Mushroom Rock |
| | |
| --- | --- |
| The old road into Death Valley, (can you see the broken asphalt in the lower left?) | Resting in the shade |
The old road into Death Valley was washed out by heavy rains in 1986. There are still remenants of the old pavement. The canyon is about forty feet wide. It must have really been something to drive into the valley through this narrow access.
| | |
| --- | --- |
| | The film crew cooked some Japanese noodles. They didn't last very long -- we all liked them. Max said they tasted like Top Ramen. (No wonder, Top Ramen is made by Nippon Foods.) They must have missed having a good Japanese meal -- I saw Hidi walking out of the grocery store in Pahrump with a big box of frozen corn dogs. |
One of Several Interviews . . . .

In addition to the action shots, we did several interviews, many on our couch. We answered questions about our motivation to travel, the benefits to taking the boys out of the public school system and plans for the future. On a few occasions we did the interviews in the middle of the day. To reduce noise we closed the windows and turned off the air conditioner. Not the best working conditions for Southern Nevada or Death Valley.
During this interview we asked the boys to play outside so there wouldn't be any extra noise. About ten minutes into the interview Max tip-toed inside and quietly asked "where is our long rope?" "Why", we asked. "Well", he said, "Mitch is halfway up the backside of the hill where it's real steep and the cliff is crumbling below him." So, with quick apologies for interrupting the interview, off we went. As the story goes, Max thought he'd try climbing up a cliff on the backside of the hill, but once up, he realized it was too steep for a safe desent. Mitch climbed up and helped him down and then thought he'd try going up higher. It was even steeper up there and then the cliff started crumbling beneath him.

This picture was taken by Cheryl after we were coming back off the top of this hill.
I went up to the top with the rope and lowered it down to Mitch but it was five feet too short. I couldn't stretch toward the edge because I would risk knocking loose large chunks of the dry hillside on to Mitch's head. Max ran back for another rope and brought it up. I tied the two ropes together and looked down to see if Koji had his camera going. I saw Cheryl but not the camera crew. By this time they had enough film coverage from the bottom and wanted to get some footage from the top. Cheryl said, "they went up there." I thought about whether I should wait for them. It was a steep climb with much of the path following a narrow ridge that dropped off on both sides. I didn't want to wait much longer but thought I'd go back twenty feet where I could look over to see where they were. Before I got the twenty feet, here they came over the top. They must have run all the way up carrying the camera and sound gear. So I told Mitch to watch out for rocks and dirt and threw the rope over the edge. Mitch grabbed the rope, I wrapped it around me once and secured my feet, then slowly lowered more rope to him as he eased his way down. I looked over at the camera crew and saw they were still exhausted from their quick ascent up the hill, but the camera was rolling. Later, Kats complained about all the heavy breathing in the background sounds from his crew.
| | |
| --- | --- |
| | And yet another Junior Ranger badge for their shirts. (They've got quite a collection now -- all of the badges wouldn't fit on their shirts any more, so Cheryl made them boy scout style badge sashes.) |
The film crew rented a 27' Cruise America Class-C motorhome. That's the type on a long van frame with the overhead sleeping area. They didn't really have supplies onboard for living in it, other than a few bottles of Sake and a box of frozen corn dogs. Besides, there were four of them and only three beds. Cheryl had repeatedly told them that they should camp out at least once to get the real feel for RVing. Kenshi kept telling us he'd love to but the other guys, . . . well, they liked the hotels. But when Koji, the Cameraman, was riding with us, he said we would all love to, but Kenshi doesn't want to. When I told them what each was saying we all had a good laugh and the finger pointing began. On our second night in Death Valley they did camp out. Koji had worked in Honduras for a couple of years and had traveled a lot in Mexico, so I offered him our hammock. He gladly accepted the offer and said that he liked the idea of sleeping under the stars. So after a day of seeing the sights, mountain rescues, TV interviews and Junior Ranger badges, it was time for a hand-shaken Margarita -- we use a secret recipe from Tucson and a Bubba Gump's margarita shaker from New Orleans. Hidi's margaritas were the best since he performed a Mexican jig while shaking his up. That night we set up our large grill and cooked up a big Mexican dinner of beef, chicken, and shrimp fajitas. They filmed much of the cooking and when the table was ready they even filmed us sitting down to eat. They were filming from a distance, but I slipped the dishes underneath one another so it looked like there were dishes for just the four of us. As we started to fill our plates I said, "with all of this food, the Japanese viewers are going to think we eat an awful lot." We had more than enough for all eight of us.
| | |
| --- | --- |
| | After dinner Mitch listened to the sound equipment. We also used our satellite dish to focus the sound waves and see how far away we could hear someone whispering. (About fifty yards for a soft whisper.) |
| | |
| --- | --- |
| | As night set in, the boys built a fire and we roasted marshmallows, played a few tunes on our harmonicas, looked at the stars and enjoyed some Sake. |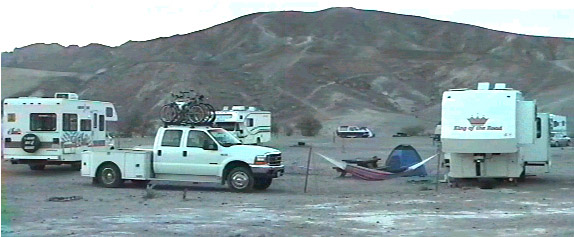 We talked about getting an early start the next morning and even catching a good sunrise shot. I woke up early, took a shower and wondered if I should wake the others. We had stayed up quite late the night before. I thought I'd take this picture and maybe my noise would wake up Koji, (who was sleeping in the hammock stretched between the trailer and the truck.) Mitch slept in the tent. Their RV is to the left of our truck.
| | |
| --- | --- |
| | Then as I panned the area with my camera, I was surprised to see that the crew was not only up, but already up on the far hill. It was only a sleeping bag lying in the hammock. |
| | |
| --- | --- |
| I took this shot of another camper cooling off his birds. It's a large colorful Macaw type bird splashing under a water facet. | |
---
Our next stop Bishop, California.
| | |
| --- | --- |
| Bishop is a favorite place of ours. It's a small town surrounded by property controlled by the Los Angeles Water District and Federal Bureau of Land Management (BLM). Because all of the surrounding land is government owned, there is no place for the city to expand. Without more housing there's no need for increased businesses. No Walmart, no Home Depot, no urban sprawl. | |
| | |
| --- | --- |
| | This photo is from way back in the fall of 1999 when we spent a week in Bishop and went to the county fair. Max had a chance to speak on the radio at the KDAY booth. The fellow at the booth, Bill Lafever, has been following our web adventures and invited us to stop by and see the station someday. |
| | |
| --- | --- |
| | So we called ahead and arranged for a tour. As Bill showed us around, the camera followed. We were getting used to it by then. |
| | |
| --- | --- |
| KDAY has also expanded into local television. Here the boys are behind the news desk. | |
| | |
| --- | --- |
| KDAY Cameraman, Carl and Koji with their cameras | Benett, the station owner, and Carl |
| | |
| --- | --- |
| As Bill gave us the tour, the Japanese were filming. At the same time, Carl was filming the Japanese and us for a human interest story for their news program. I occasionally turned on my camcorder to film Carl filming the Japanese filming us. | |
| | |
| --- | --- |
| DJ Catherine and Mitch | Catherine and Max |
At the radio station, Mitch and Max recorded "a liner". That's a short line that is played between song's such as, Hi -- I'm Max Nodland -- I always listen to KDAY when I'm traveling in Bishop. It took Max seven tries on his liner. He had been pronouncing KDAY as Ka-Day for two years even though the station pronounces it Kay-Day. Under the pressure of the microphone, Ka-Day kept rolling off of his lips. It was pretty funny.

Here's a picture of Catherine, live on the radio, talking about the full-time RVing family that is touring the station. She said, on the air, that we give hope to all of the listeners showing up for work everyday.
| | |
| --- | --- |
| | This gal runs the J-Diamond RV Park that is in the center of Bishop. She remembered us from two years ago. After she guided us to our site, Hidi asked if he could try driving her golf cart around. Sure, why not! |
| | |
| --- | --- |
| This JC Penny store is a good representation of Bishop's downtown area. From the RV Park in the center of town, it is only ten blocks in any direction to the edge of town. We really enjoy being able to walk to stores and restaurants instead of having to drive everywhere like in most of America. | |
In the center of town and right next door to our RV Park is Erick Schat's Bakery. Home of Erick's famous Sheepherder Bread. We enjoyed sitting in the sunshine each morning with a view of the beautiful Sierra Nevada mountains, a glass of freshly squeezed orange juice and a wonderful pastry. We left town with plenty of good bread.
| | |
| --- | --- |
| | Max loves this brick wall. It's over two stories tall and made a good place to throw a ball. It's the back of a hotel next to the RV Park. One afternoon Kats cut the bottom out of a large plastic cup and taped it high on the wall. Soon a new game using the baseball and mits broke out. The game looked like a cross between baseball, handball and basketball. |
| | |
| --- | --- |
| The morning before we left Bishop I took this picture with the Sierra Nevada Mountains in the background. Unfortunately, my camcorder can't handle the bright and dark colors at the same time, but you can see the contrast between the warm valley floor and the cold mountain peaks. | |
We left Bishop Thursday morning and headed to Lake Tahoe. We drove through some snow on the way and once we arrived in Tahoe it was starting to snow hard. The film crew had a helicopter scheduled to take aerial shots of 1200 RVs arriving at the Escapees Rally on Sunday morning. We didn't want to get stuck in Tahoe if it snowed hard that night so we headed on to Reno. We woke up the next morning and the forecast had changed from 2 inches of snow on I-80 at Donner Pass to 6 inches of snow. I called the highway report number and learned that chains were required over I-80 headed West and things were expecting to get worse. Further conversations with the Road Department were not positive. It was Friday morning and the guy on the phone was now talking about 20 inches of snow for Friday night. He said if we wanted to get to the west side of the mountains we better leave now. Then he also told me about the Feather River Valley just north of Reno. It was a smaller highway but only went up to 5200 feet in elevation.
| | |
| --- | --- |
| | The Feather River road turned out to be a beautiful drive. Much of the way is a narrow canyon with waterfalls all around and a train track hugging the steep rocky slopes. We stopped for lunch along the way and Koji and the boys stacked rocks to cross the river to a small gravel bar in the middle. |
| | |
| --- | --- |
| | We stopped again here to look over the deep canyon and give Cocoa a chance to run. I thought this was an interesting sign. "NO HOUSEHOLD GARBAGE" at the edge of this cliff. Does that imply that industrial waste or construction debris is OK? |
---
SPRING ESCAPADE 2001 -- CHICO, CALIFORNIA
| | |
| --- | --- |
| | What is an Escapade? Twice a year the Escapee RV Club organizes an educational rally. There are multiple seminars scheduled throughout the day and plenty of vendor booths offering all kinds of products and services. The evenings are a chance to visit with SKPs, (pronounced Es-Kay-Peas,) also called SKIPS. We talked with people we hadn't seen for awhile, met new SKPs, shared travel stories and RV maintenance woes and had lots of entertainment. |
| | |
| --- | --- |
| Here's Cheryl's hero, Kay Peterson. Kay and her husband Joe are the founders of the Escapee RV Club. They are SKP #1. We are SKP #42,480 and new membership numbers are currently in the 80,000 range. | |
While our camera crew covered the ground, Kenshi and another crew covered the sky. Kenshi said the backup getting into the fairgrounds extended around the Chico fairgrounds, crossed the freeway and went far down the street. The night before the rally, the parking lots all around town were full of RVs. We parked on the back side of the Chico Mall with about 100 others. The stores love this huge rally because we all go out to eat and shop in the mall and around town.

Koji, filming from the roof of our trailer

Mitch enjoyed several sessions of wood carving class. A sharp knife is the trick to carving. Mitch has learned how to sharpen a knife so it's razor sharp.
| | |
| --- | --- |
| | Hidi and Max during a game of Lazer Tag. |
| | |
| --- | --- |
| | The boys and I performed at the "Ham-a-Rama" with our harmonicas. We had bought them each a harmonica and instruction book for Christmas. The harmonicas were $4 each at a Cracker Barrel restaurant, (great breakfast places that are in most of the country except for the western states.) I learned and regularly practiced many songs and soon the boys were trying it too. After two months they can each play several songs and continue to learn more. |
Mitch started with a solo of "Oh Susanah", then Max started Fra-a-jaca, (the French children's song that none of us can figure out how to spell -- also known as "Are you sleeping Brother John",) and then Mitch and I joined in rounds and finally we ended up with our jazzed up version of "When the Saints Go Marching In". We played excellently during the show, but rehearsal was not so good.
| | |
| --- | --- |
| It's Dad | Dad, you're messing up again. |
| | |
| --- | --- |
| | Oh, this is never going to work. Dad keeps messing up! |
| | |
| --- | --- |
| | The talent show was over, Spring Escapade 2001 was over, and so was our time with the film crew. |
Right after we took this picture we all drove to a country road and said our good byes. As the camera was rolling, we drove off into the distance. We were all a little sad. It seemed like we had spent months with these guys, not just a few weeks. We had all become good friends. Max said, "are we ever going to see them again?" It was hard to say that maybe not, unless we go to Japan or if they come here. We'll keep in touch though.

A couple weeks later though, while we were in Seattle, we met with the young family that they also filmed and we even had a chance to meet up with the crew again for one last dinner before they returned to Japan. As we left, Hidi said, "I am sad to say good bye again."

We really enjoyed having the chance to see you guys again and someday we will see you in Japan.
ã copyright Nodland 1999-2020