Iowa
August 2000
---
| | |
| --- | --- |
| Replica Lewis and Clark Keel Boat | Sunrise over the Missouri |
Do you have any idea how many historical markers, scenic byway signs, view point signs and point of interest signs there are along America's highways? Well I do. Here we came across a sign that said, "Lewis and Clark State Park and Keel Boat Exhibit." So we turned in for a quick stop. Once the boys saw other kids swimming in the Missouri River there was no getting out for the evening. The moon rising over the Missouri was spectacular but too dark for a good picture.
My parents had a collection of National Geographics when I was a kid and one of my favorite old issues was one about the Iowa State Fair. Since we were headed that way and the timing was right I had to go.

The Folks here claim it is the largest fair. I'm pretty sure of one thing, it has the most food. There are food concession stands everywhere.


Something we hadn't seen before was so much pork. A popular item was breaded pork tenderloin sandwiches these are fixed up like a chicken burger. One thing we didn't see to eat was sweet corn. We did see plenty of corn in the fields. A matter of fact we drove for two days and almost got to the other side of the first corn field. Most of the corn in Iowa, the #1 corn producer, is used to feed livestock.
It was two either too early in the season or these folks are just plain tied of looking at corn and after a hard day in the fields can't stand to see it on the table.

We did see a little corn in a grocery. It was 25 cents an ear and the sign said "Colorado Sweet Corn", go figure.
Guinness record holder for house of cards working on model of the Iowa State Capitol Building.

The building are hot, it was in the low nineties and the humidity was 100%. There were a lot of very large fans blowing inside and yet these cards did not fall.


He uses no glue, tape, or other stuff to hold the cards. Pretty incredible
We have seen several new rides this year. Most are new ways to spin people in three or four directions. Mitch liked on called Hang Glider. It's similar to the older ride called a Paratrooper except you lay down on it. Max loves to drive so he spent a lot of his time on the bumper cars.

| | |
| --- | --- |
| | Even if the fair is not the largest in the country, I bet the campground is. During fair week there are as many as 3300 trailers or tent here. Although Quartzsite Arizona boost 12,000 RVers they are in smaller groups of 10 to 100 spread across the desert. Here they are packed in pretty tight. The evening we arrived there were two spaces left. |
Even though the campground is adjacent to the fairground there are shuttles, pulled by tractors, to save the long hot walk. There are many hills in this park and many of the RVs had one side perched on two and sometimes even three feet of blocks.
| | |
| --- | --- |
| Mitch and Max learned how to weave a basket in the Cultural Center | |
Here's Gus, all 3030 pounds of him. Each barn had a pen with the largest animal (cow, pig, sheep, etc.) Max really enjoyed seeing and petting the horsed. There was no shortage of livestock at this fair. There was also plenty of new and antique farm equipment on display.
Many of the building were constructed in the twenties or thirties and display a grand architecture of those times. The Iowa State fair is a long time tradition here.


We rode on the "Ye Old Mill" ride. Its a love tunnel type of ride. Once through the opening in the mill it's mostly a dark tunnel but has an occasional lighted display. This ride has been here since 1921.

If you know anyone from Iowa you'll have to ask them if they have ridden this one.
---
LIVING FARM MUSEUM
Just east of Des Moines is a Living Farm Museum. It sits on a couple hundred acres and contains four distinct farms displaying life in Iowa during the 1700's, a small farm 1850, a farm around the turn of the century (1900), and a small town about that same time.

This small indian home was made by stacking tree bark around a pole structure. The back is in sheets about 18 inches wide and six feet long.
| | |
| --- | --- |
| | |
Here's the 1850 home of an early settler. Each setting is staffed with people who spend there day living and caring for the place in a traditional manner. Here at the 1850 settlement two people were mixing sand, clay and straw to replace the daubing in the chinks between the logs in the cabin. The lady of the house was cleaning up after preparing food for the day. Mitch and Max were asked to feed the scarps to the hogs. The boys can barely be seen holding the bowl of scrapes behind the fence.

There were many horses in the barn of the 1900 farm and it reminded me of Iowa farms in the 1960's with the exception of electricity and a few appliances and newer tractors. For the most part it was the same, barns, silos, windmills and a few big shade trees to escape the hot sun and heat of cooking in the kitchen.

In the town center we visited with the blacksmith and learned that the iron rim around a wagon wheel is called a tire and learned how these tires were maintained, watch brooms being made, talked with the druggists, and toured the general store.

The hands on aspect of this living museum really captured or interest.
---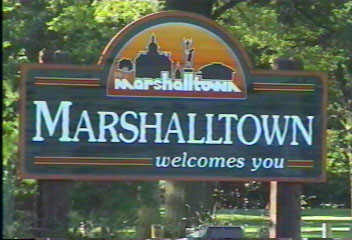 My dad was born in Marshalltown Iowa. While we were in the area I thought it would be a good opportunity to visit the courthouse and look up some records. The boys would get a chance to learn about vital statistics records and I had never done this either.
We went to the courthouse and reviewed the birth records, death records, and army discharge records. Marriage records and property sales were also there.

Mitch and Max really got into finding the Nodland name in these books. They probably were surprised that here in the middle of the country was their name. Max learned that his great grandfather's first name is his grandfathers middle name, his dad's middle name, and his middle name.
Next we went to see if we could find the old farm of my aunt and uncle. It had been torn down a few years back but maybe we'd somehow find it. I called my mom and she said it was near the town of Conrad, but we should call Aunt Doris and she may know more precisely. So we drove about ten miles north to Conrad.

It's a small town and we walk all two blocks of it. I ask the guy at the hardware store if he knew of the Kaput family.
He didn't but I talked with another customer who was one of the Sorenson kids that went to school with my cousins here. I went a head an called my Aunt Doris in Idaho and she said if I'm in the area I better call her (and my dad's) cousin Virginia. So I called Virginia and with in minutes we were visiting with relatives on their dairy farm.
I can faintly remember a large picnic here when I was six. I had no idea when I woke up that morning I would be visiting with relatives that day.

Mitch thought it would be real neat to work on a Dairy farm like this and Max said it must be the smelliest place on earth.
Here's a picture of their farm from their house on the edge of town and a white kitten getting a drink of milk before it goes to the hogs.

| | |
| --- | --- |
| | The birth records for my dad and all of his brothers and sisters was 105 North 9th. So we drove by and looked at the house there. It looked like it could have been there that long but its hard to tell. I'll have to check with my aunts or uncles |
ã copyright Nodland 1999-2020