Edmonton, Alberta, Canada
July, 2000
---

The Edmonton Mall is the world's largest indoor mall. It is truly incredible. It has the world's largest indoor waterslide park. The guys spent a day there while Cheryl checked out the shops. It has underwater submarine rides, a dolphin show, about thirty theaters, and IMAX theater, a bowling alley, two huge food courts and a wing with many major restaurants.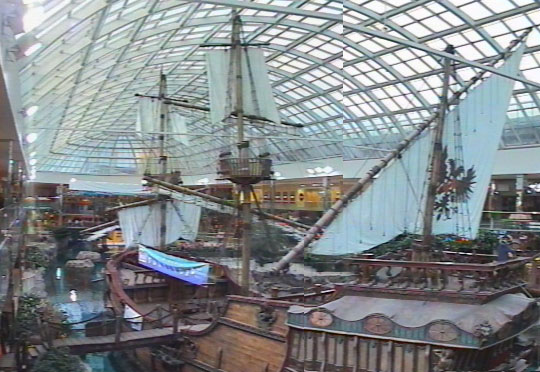 In the section with the submarine and the dolphins is a full sized replica of the Santa Maria.
Did I forget to mention that there is also a miniature golf coarse, an ice skating rink, a fantasy hotel that provides rooms with themes, a casino, night clubs that host major entertainers and probably something else I'm missing.

We spent nearly three full days at the Mall and could have spent more -- time and money.
O.K., so I left out the amusement park. This indoor roller coaster holds the record for having the highest G-forces. This place is really something to see.

I imagine that spin-offs of the "Survivor Show" are everywhere and Edmonton was no exception. Twenty people set out to win $5,000 and a trip for two to an exotic island. This was sponsored by the local FM station Power92. The contestants would spend most of their time on the Santa Maria standing.
| | |
| --- | --- |
| | They were allowed 4 hours of sleep and three restroom breaks at specific times of the day. The rest of the time they stood with one hand on the railing. If they leaned on their forearm or didn't have one hand on the rail they were out. We ended up routing for Erin, the red headed girl in the center of this picture, because we kept meeting up with her friends and ended up talking with them everyday. In addition to standing, there was a daily challenge. |
One day it was the large straight drop on a water slide, (the slowest person was out of the contest). Another day it was the roller coaster, (first person to hurl was out). Another day was miniature golf contest, (highest score was out).

They also got to eat great foods like smelt and jalepinos stuffed with caviar. One of the gals said she wouldn't feed it to her worst enemy, while one of the guys said he eats this stuff all the time but a cold beer would have been good with it.
The mall was only 7 miles from our RV park so even on the days we didn't spend at the mall we would go down just to watch the coaster or water slide contest. It only took 5 rides on the coaster for the first one to throw in the towel and by the seventh ride a total of three did not survive. Others walked off as if every step they took was going to be the straw that spewed the camel's stomach (if you know what I mean).

We left Edmonton on the last day with three survivors left, and Erin, the red head, was still in. We listened until we were out of range of the station, but occasionally a signal would come in so we would pull over and listen until the signal faded again. Finally, we looked up the results on the web. Erin fell out of the competition in a dingy race across the submarine lagoon and the other guy threw in the towel about 10:00 pm on the sixth day.

As we traveled south, we stopped in the small town of Drumheller, Alberta. We had heard about a famous museum in this very out of the way place. What a find! It was the finest paleontology museum we've ever been to, (and we've been to a lot of them). The name is the Royal Tyrell Museum of Paleontology. It is about an hour northeast of Calgary. This is one of the best and largest collections of prehistoric plant and dinosaur fossils in the world.

Driving there took us though miles and miles of flat wheat fields. We passed a sign saying, "Canyon Overlook Ahead." We looked at each other and said "huh?" It seemed like a very strange place for such a sign since all we could see was miles of wheat. Then to our surprise there was a canyon -- virtually a huge crack in the land. The river had cut this canyon and exposed an enormous collection of dinosaurs.

Unfortunately, we didn't bring the camera on this visit. If you're interested in dinosaurs or natural history it is definitely worth the trip.


ã copyright Nodland 1999-2020