Bar Harbor, Maine
September 2000
---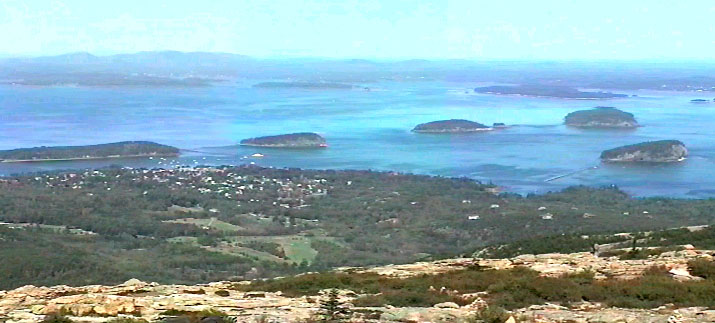 At the top Mount Cadillac looking down on the town of Bar Harbor
As you can see, this area has a lot of small islands. Bar Harbor is on Mount Desert Island along the coast of Maine. About one half of the island is part of Acadia National Park. We stayed in an RV park outside of town and one night a moose was spotted by the laundry room. Acadia is not a park that boasts the most spectacular views, the most unique land forms, or the most diverse flora and fauna. It simply boasts that it's a great place to relax, slow down and enjoy nature.
| | |
| --- | --- |
| | Bar Harbor is a tourist town with the flavor of the earthy-type folks like you'd find in Oregon. Even though it was late September and vacation season was over, it was still difficult, though not impossible, to find parking. Cruise ships anchor off shore and shuttle tourists to town. |


Southwest Harbor
Also on the island, Southwest Harbor, which looked to us like the picture perfect little port town of Maine. Just driving past here made us feel like a fresh cooked lobster. Just about every restaurant has lobster on the menu. You can even get a (Mc)Lobster Roll - Full Meal Deal at the nearby set of arches. However, the locals seem to turn their nose at the idea. Driving around the Maine coast we passed several cafes with very large outdoor steam pots cooking lobster.
| | |
| --- | --- |
| | Here's a picture of Max riding under a bridge on one of the carriage roads. There are 57 miles of carriage roads on the island. There were several private donors that gave land for the park. John Rockefeller Jr. donated 11,000 acres and also created the carriage roads under the stipulation that they may never be used for any motorized coaches. |
| | |
| --- | --- |
| | We joined one of the Park's Ranger-led-hikes to learn more about beavers. We did see several beavers, a newly cut tree and a beaver lodge. |
| | |
| --- | --- |
| | We saw beaver dams in Yellowstone which both blocked the river and provided the beavers with a house. Here, the beavers blocked the flow of water out of a marshy area to deepen the water level a few feet. The beaver lodge is then built in the center or deeper part of the marsh to add protection from predators and intruders. |
ã copyright Nodland 1999-2020